Get the SELF-PACED RECOVERY TOOL at the tip of your hands.
The Aware App is a self-help Muslim toolkit best for those who are on the journey to recover from pornography addiction.
The app is now available on Google Play and on the App Store.
Access special features for a great deal of only $1.90/year.
Years of experience in helping thousands overcome porn addiction
Clients were able to successfully take control of their lives
Days of challenge, the ambitiuos life-changing discipline to recover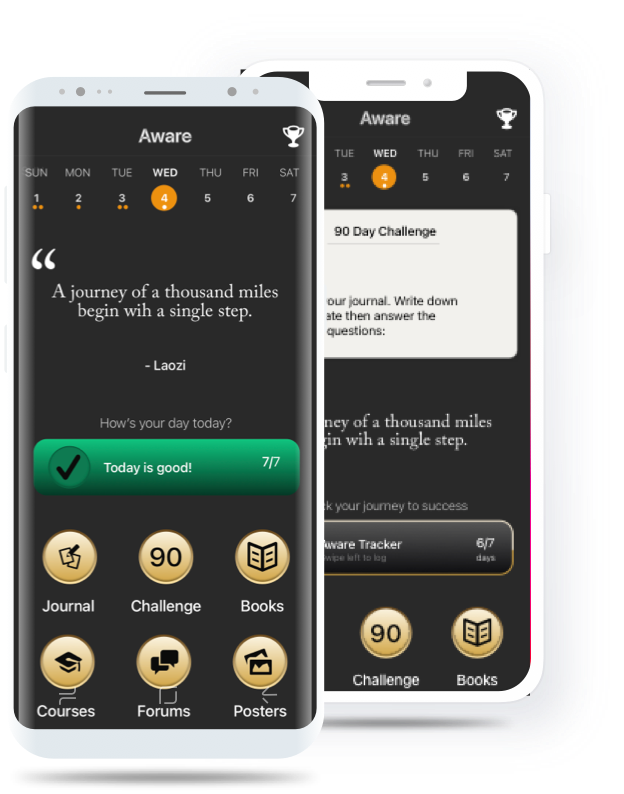 Is pornography addiction really bad?
It affects your mental health, your relationships, and your behavior. A "simple" media to past time can potentially harm your life.
Some of the common damaging effects of pornography for users can include addiction, isolation, increased aggression, distorted beliefs and perceptions about relationships and sexuality, negative feelings about themselves, and neglecting other areas of their lives.
With our new app, you can be guided closely by readily available sources.
JOIN THE BRAVE RECOVERED HEROES
"I was hesitant at first, but eventually forced myself to give it a shot, and I've never looked back. I was able to reclaim my life thanks to the Aware Academy's services."
M.P
"Naturally, you're hesitant to purchase anything online, let alone disclose your addiction to complete strangers. However, taking that move was the most significant thing I've ever done.
I completed the recovery programme, and one year later,
I am free of pornography's
chains and this filthy lifestyle."
R.G
"Never did I imagine myself free from porn. Thanks to Wael Ibrahim and the Aware Academy. The longest time I recall myself free from porn was about 3 months. But to break the entire cycle of porn addiction in 4 months! is beyond me."
J.D

Tracker
Tracking your daily progress is now as simple as a swipe. Keep yourself in check.

Guided Journal
Our guided daily journal is designed for those who wish to improve their lives day by day.

90 Day Challenge
Join our life-changing 90 Day Challenge and reach consistent change with lesser relapses.
Why should I battle porn addiction?
By. Wael Ibrahim – 17.3.2022 "Sir, to be honest, I'd rather experience sexual pleasure with a toy or during pornographic scenes than with a real person." This is something a 16-year-old boy once told me during a counselling session. Another young man once told me, "I used to be very thankful for these pornographic websites. …
Porn, Love, Lust, Our children & our role! Read More »
Read More
Please keep me up to date! Subscribe me to the weekly e-newsletter!